ND Motels: A Variety of Choices in Bismarck
ND Motels Review for Bismarck North Dakota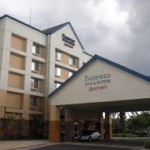 Hey, today I want to provide you a bit of information for motels in the Bismarck area.  This is information about motels or hotels in the Bismarck area – the capital of North Dakota.
First up :  BISMARCK MOTOR INN
Address:  2301 East Main Avenue, Bismarck ND
Phone  :   701-223-2474
Email   :   [email protected]
The rooms all come with a kitchenette – nothing fancy. But at least you can sit down and have a nice snack or dinner in your room.  *There's a microwave in the room, as well as a stove.
VIDEO of Room
I will provide you this video, so you can observe for yourself.  There are storage cupboards aplenty in the kitchen area.
There is wi-fi  (but hey, I don't know your needs so it is best to phone management & ask).  I have listed the phone no. at the top of this page. HBO is available in each and every room.  If you opt for Weekly rates, this is quite economical; it basically comes out to less than $50 a night.
**NOTE:  This is close to downtown, so it's good for shopping & dining.  If you're looking for a place that's super quiet, however, this may not be your best bet.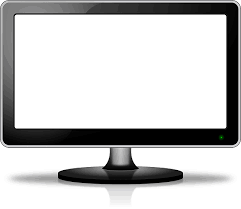 FLAT PANEL TV's;  also the Bismarck Motor Inn is close to restaurants and to shopping, and fairly close to the hospital
LAUNDRY:  Yes  (Coin Operated)
A Senior Discount & Veterans discount is available – so inquire within.  Also, children stay FREE with a paying adult.  There are security cameras on site.
Extras:  Please note there is a room with a whirlpool – this would be their suite.
Reviews for this inn:  TRIP ADVISOR

Handicap Accessible:   Yes         Pet Friendly:  Yes   

To See a Slideshow,  visit the Bismarck Motor Inn page
To observe the proximity to St. Alexis Medical Ctr., go to Roadside America  (this Page lists the top 30 motels, inns, and hotels within a 10 Mile radius).
NEXT UP:  La Quinta Suites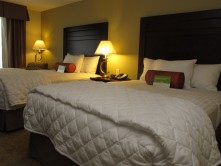 Address:   2240 North 12th Street, Bismarck, ND 58501
Phone:     701-751-3313  or  701-355-6913
Fax :        701-751-3314
This hotel is clearly a step up – yet what it has in common with the previous place is that it's also "pet friendly".  There's a walk area for your dog(s) which is well maintained .
At the low end, it'll cost you at least $109; right now (in May) the rate is $122 thru Orbitz and Bookings.com
Amenities:   exercise room, pool, jacuzzi, pillowtop beds with luxurious quilt, free breakfast, free newspaper, free local calls; meeting facilities; high-speed internet access, guest laundry.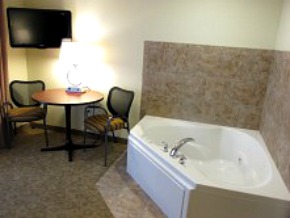 This hotel has a really nice bathroom (better for sure than Bismarck Motor Inn) and is more spacious.  Thus it depends if you want to be pampered and have really nice comfy bedding and work out in their cool fitness room – or if you'd rather save some money and get a good weekly rate (and still be close to restaurants, shopping etc), then opt for the motor inn.
I can vouch for the fact this is clean and the rooms are very spacious & nice.  I like the fact this hotel serves wine sometimes in the Lobby at night.
** RECENTLY REMODELED **
The La Quinta Inn has another sweet feature:  I like that check-out is at Noon !
Check in time is:  3 PM
Things to Do:  Located near the state capitol.  Loads of restaurants; miniature golf.  The Belle Mehus Auditorium is nearby, within 2 miles.  For theatre tix, hit up Ticket Center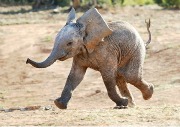 Dakota Zoo is nearby – several miles (3.5 miles)
Handicap Accessible:  YES     *Staff does try to provide ground floor, if requested
Points and specials:  LA QUINTA OPTIONS
Reviews – YELP
*Note that in some cases a Late check-out can be arranged (depending).  Also the Front Desk is available 24 hours a day.  Safe at front desk.
Images:  See photos of Room  
Copyright  2015  ND Motels
Other ND Motel Reviews and Articles